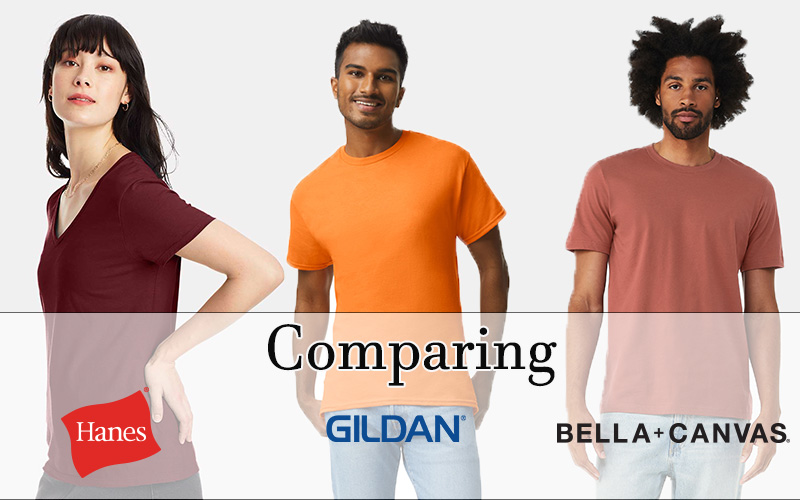 At Blank Shirts, we're more than just a wholesale apparel retailer. We have the inside scoop on all the brands you love and how to find the perfect fit. In today's edition, we compare our top sellers: Bella + Canvas, Gildan, and Hanes! We'll cover all you need to know to choose the right brand for your next group activity or major event.
Gildan Blank Shirts: What to Love and What to Think About
Gilden is known worldwide for creating budget-friendly apparel. Though Gildan blank shirts are well-made and reliable, the price won't make you angry. With a wide variety of long sleeve blank shirts, short sleeve blank shirts, men's and women's shirts, and shirts for kids, Gildan has a vast menu of options.
Here's what we love about Gildan blank shirts:
Tons of variety
Well-made, reliable clothing
Budget-friendly options
Availability of sizes and colors
Here are a few things to consider:
Multiple manufacturing locations
Mixed fabrics (mid and high-quality)
Budget-friendly options are not as soft as the higher-end shirts
Overall, we love Gildan. Gildan's variety and price point can be a fantastic option when buying bulk blank t-shirts.
Hanes Blank Shirts: A Reliable Choice
Most folks are familiar with the brand Hanes. While the first thing you may think of is underwear, Hanes does much more. As a clothing giant, Hanes has plenty of options for blank t-shirts in a range of colors and purposes. From long sleeve shirts for colder weather, to blank short sleeve shirts in every color imaginable, Hanes has it all.
Hanes shirts have a reputation for being durable, affordable, and well-crafted. Their closing options are a fantastic middle-of-the-road choice for any occasion. Hanes blank shirts have a range of prices to match every budget. This trustworthy brand is a major contender for wholesale blank apparel.
Here are all the best things about Hanes blank shirts:
Reliable craftsmanship and quality
Fantastic range of options
Numerous budget-friendly attire options
Soft hand feel and comfort
Here are a few things to consider about Hanes shirts:
International factories
Mid-range prices
Some shirts may shrink
Despite a few things to consider, Haynes shirts can be a terrific choice and wholesale apparel decision. Plus, Hanes is known for consistent quality and manufacturing. Definitely consider looking into Hanes blank shirts for your next bulk clothing order.
Bella + Canvas: Count on Comfort
If you keep up with our blog posts, you've noticed that we love Bella + Canvas. Over the past several years, Bella + Canvas shirts have gained a reputation for being super soft and breathable. With a super-soft hand feel and outstanding comfort, B+C shirts make a fantastic choice for all occasions.
Bella+ Canvas has created a full array of comfortable apparel options. If you need a short sleeve option that works for everyone, the Bella + Canvas 3001 Unisex 100% Cotton T-Shirtis one of our best sellers. This super comfy tea comes in a full spectrum of colors and sizes. No matter what you need, Bella + Canvas has a comfy option.
Here are some things to love about the + Canvas:
Super comfortable fits and wearability
High-end materials
Top-notch manufacturing
Excellent handfeel
Here are some things to consider before you buy:
Higher price points
International material sources
Bella + Canvas still stands out as an excellent clothing manufacturer among all the highs and lows.
Consider Your Options
When looking for bulk blank t-shirts, any of these best-selling brands make a great choice. Now that you know some of the highs and lows, you can find the brand that best fits your clothing needs. Keep in touch with the blog to learn about everything in the wholesale apparel world.
---
Related posts