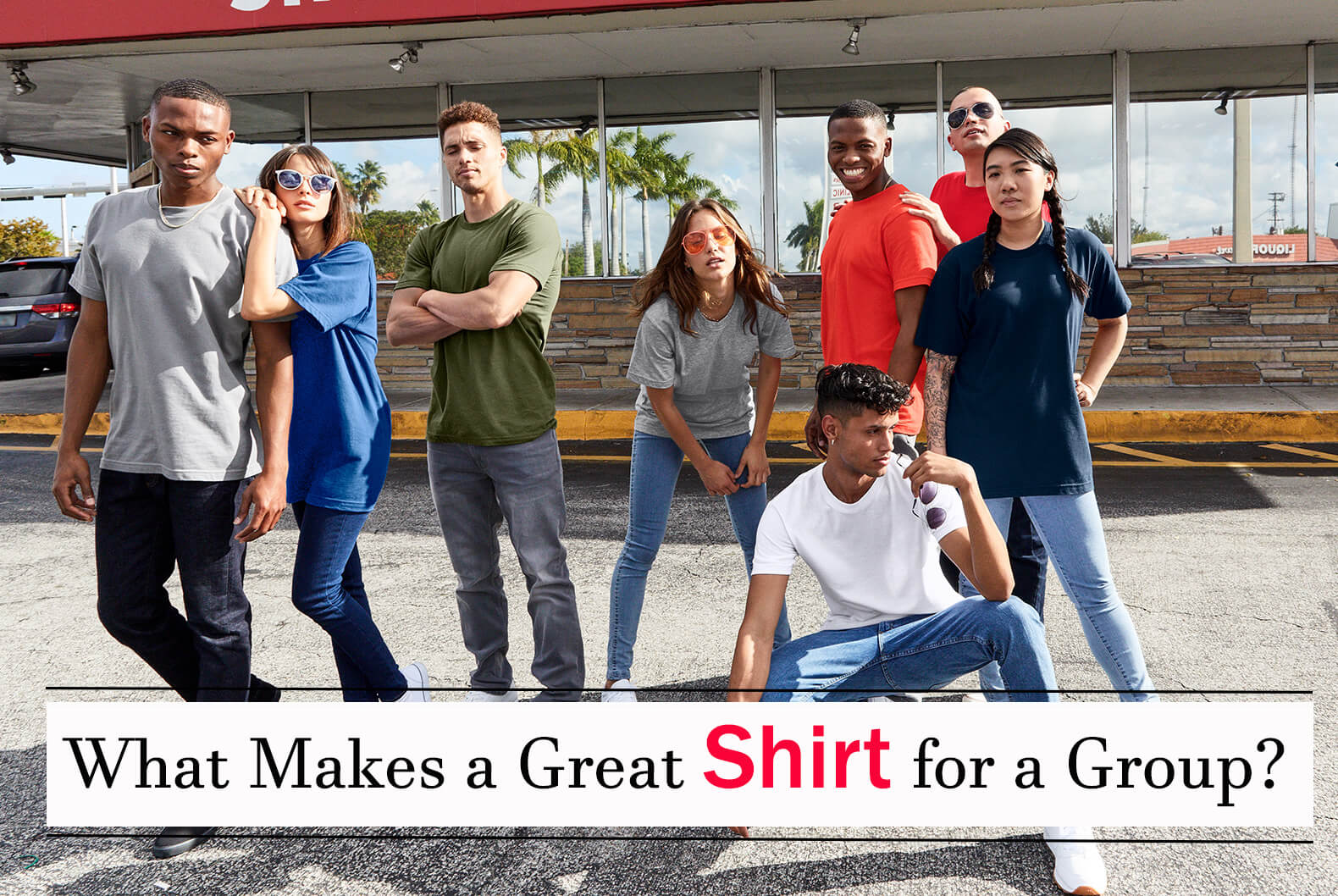 Whether it's a Thanksgiving shirt for the whole family or a shirt for every participant in a charity 5K, purchasing shirts for a group can be a chore. At Blank Shirts, we've done our fair share of group events and so pulled together some of what we believe makes a great shirt to order for a large group.
Blank Shirts has many options that work extremely well with large group orders. That's why we created this guide to help you get the perfect outfit for your family, team, company, or event. It's time to hang on to your shirt tails as we explore what makes the best shirts for group events.

Start with the Right Materials
If you follow our blog, you'll know we extensively harp about t-shirt materials. The truth is, however, that the material matters when it comes to t-shirts. If you get something made from sketchy materials, you could end up with a shirt that ends up in the donation pile right as soon as the event is over.
Always check for fabrics like combed and ringspun cotton or cotton and polyester blends. Take it a step further with a higher thread count, and everyone in the group will sing your praises.

Comfort is Crucial
Think about all the hustle and bustle around group events. The last thing you want is a shirt that'll bunch up and be uncomfy while you gather corporately. Remember, that a good group shirt should make you feel a spirit of camaraderie, not turn you into a grumpy Gus with an irritating collar or seam.
Take into account the typical weather around your area as well. For example, if you live in Florida, you might not need an ultra-warm group shirt. These Bella + Canvas short sleeve shirts in tons of solid color choices make a great option. On the other hand, if you're in a colder part of the world, these long sleeve Comfort Colors shirts may be a better choice.

Go with a Brand Your Trust
Time for some t-shirt honesty. Some brands of clothing make better t-shirt shirts than others. Aghast! But, by choosing a brand you know and love, you know what you are getting.
Some of our top picks for excellent clothing brands include:

When you choose any of these brands, you know you will get top-of-the-line quality and craftsmanship. These aren't any bargain bin t-shirts, but t-shirts that your group members will actually want to wear long after the event is over.

Add Some Comedy with Funny Shirts
Everyone needs a good chuckle, even around holidays and fun events. Funny shirts are a great option if you are creating your own shirts or building your stock of shirts for your custom t-shirt business. Comical shirts featuring funny one-liners or original artwork related to your event can be an absolute hit.
If you need specific ideas for shirts, here are a few that work great for customization.

These Raglan Shirts come in a wide range of colors and are great for the company softball team.
Any of these Sublivie shirts would work great for a completely blank canvas for any event.
These Hanes shirts are affordable, comfy, and available in many colors.
No matter the event, you can also find the perfect color—from Saint Patrick's Day green shirts to Christmas red shirts, the options truly abound.

Group Orders Don't Have to be a Hassle
From blank shirts for family reunions to team gear and fan merch, ordering for a group simply takes putting yourself in the wearer's shoes—or in this case, their shirts. With so many comfy, easy-to-embellish options available, all you have to do is select your desired style and quantity and sit back and wait for your new favorite group shirts to arrive right at your door.
---
Related posts