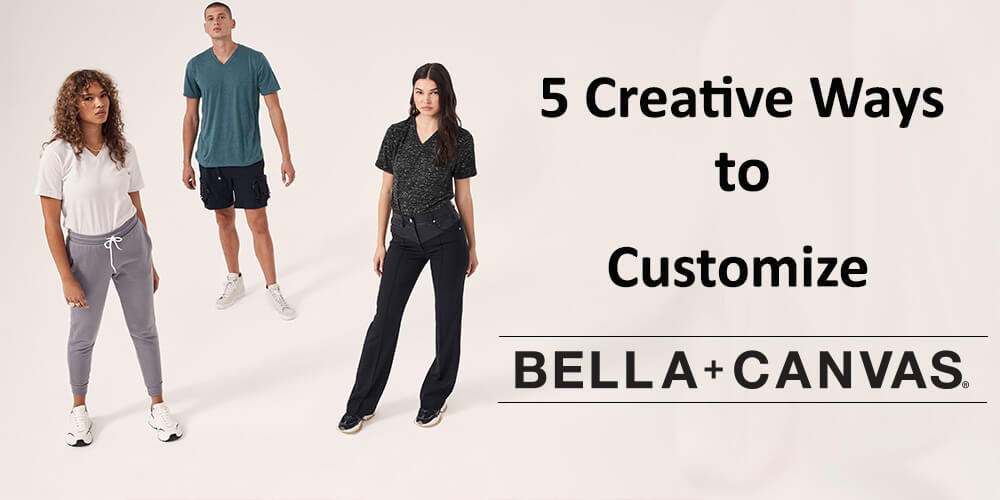 If you follow us at Blank Shirts, you know we adore Bella + Canvas shirts. We love the silky smooth hand feel, all-day wearability, vibrant colors, and everything about this incredible clothing company. As much as we love the products that Bella + Canvas makes, we love our customers making them unique even more.
The custom t-shirt industry has changed significantly over the last decade, and we've kept up with all the fun and creative ways to make shirts special. Once you get your Bella + Canvas blank shirts, here are five ways to creatively customize them.
Screen Printing
The screen printing process is labor-heavy but an enjoyable way to spend an afternoon. While this technique has been around for a while, screen printing remains one of the best ways to customize a tee.
The method is an effective way to imprint a logo, artwork, and images onto blank t-shirts. In screen printing, an artist will build an image one color at a time by pressing ink or paint through a filter (or screen). After the first layer is printed, the second screen is layered on top of the first. Adding each colorful layer will eventually create the desired image.
2. Embroidery
Embroidery has stood the test of time. Sewing machine tech can do amazing things with a simple thread and needle. Embroidered icons can have multiple dimensions, colors, and shapes.
Embroidery gives a depth to custom t-shirts that printing doesn't accomplish. Adding an embroidered image onto your blank shirt is an excellent way to spice up the attire.
3. Heat Transfer
On the newer side of custom tees, you have the option to heat transfer an image. There are countless new methods, but most use the same basic principles. Heat transfer prints an image onto a garment by pressing a heated weight. This method has become a standard for many small t-shirt businesses in the past few years.
4. Vinyl Cutting
Vinyl cutting has made a resurgence lately with the rise of computer-aided cutters. These machines have made it possible to create intricate patterns and emblems out of thin vinyl sheets to press onto shirts. Once cut from the vinyl, the image can be pressed onto the shirt to attach to the fabric. This option has a lot of opportunities for adding writing, letters, or simple pictures onto many types of materials.
Using this method is a great way to customize your Bella + Canvas Raglan tees for a baseball-themed event.
5. Stamping
You could use stamps to create all types of images on your Bella + Canvas 3501 Unisex Long Sleeve T-Shirt. This activity is a fun and inexpensive way to customize your shirt. Plus, this is a fun way to get kids involved in your artistry.
You can always count on us to supply you with the best blank shirts and insight into the wholesale world. Naturally, there are countless ways to customize your Bella + Canvas blank shirts. Go get creative!
---
Related posts