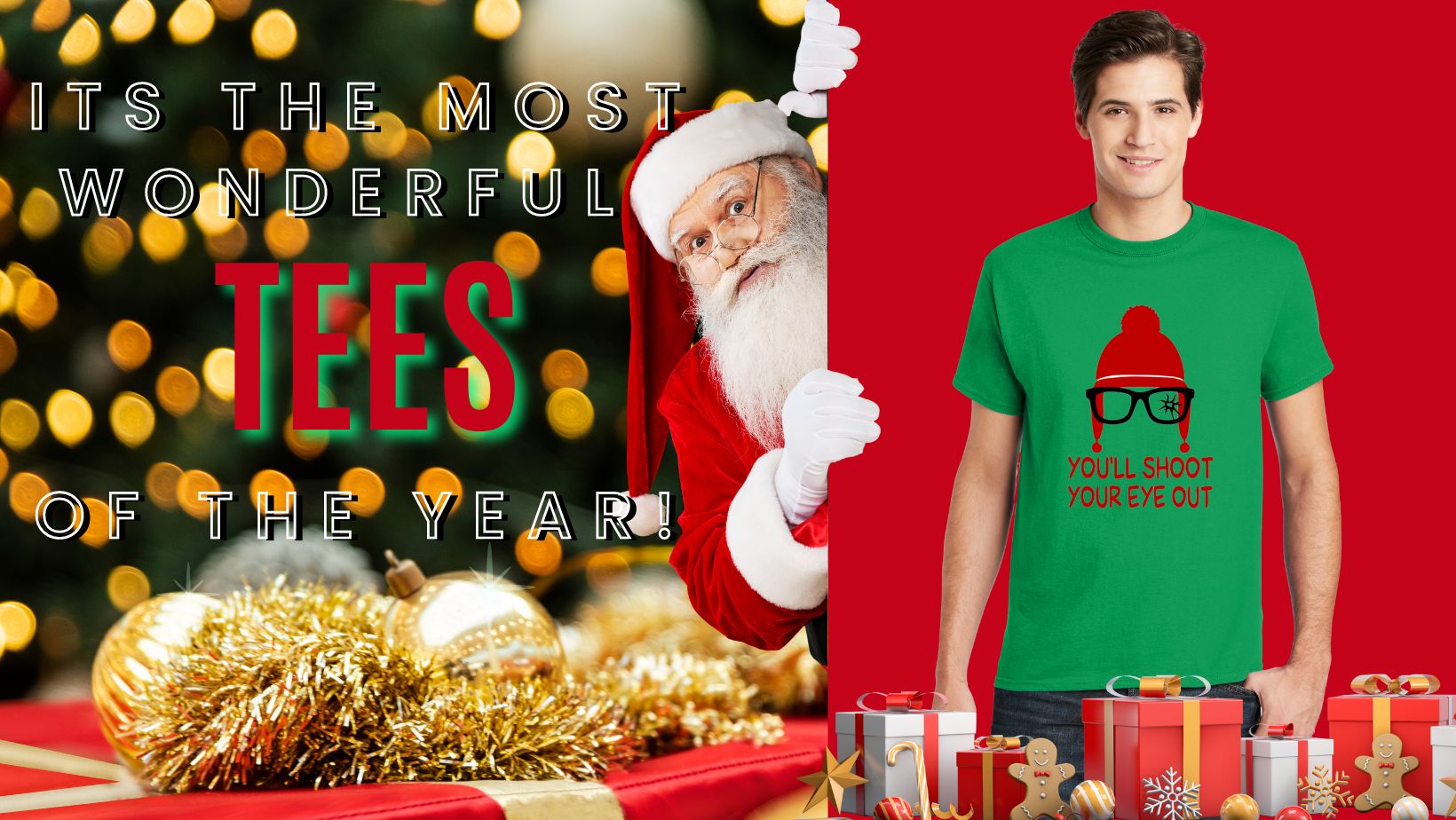 As the holiday season approaches, it's time to pull out the decorations and untangle the lights for a season filled with joy and festivities. What better way to show your holiday spirit than with your favorite tees and sweatshirts? The right holiday shirts bring cheer to your life and invite those around you to partake in the merriment. Here's everything you need to consider to find the most wonderful tees of the year.
What Makes a Great Holiday Shirt?
Whether you're a fan of funny holiday shirts or sentimental memorabilia, the fitting shirt can make all the difference in your merry-making. Of course, you can just throw on any old shirt and call it festive. Much more goes into donning the perfect holiday shirt.
Sporting holiday-themed apparel has a rich history that goes back centuries. From early on, folks would wear specific colors or patterns to signify the special season or holiday. Now, we celebrate with a myriad of decorations and apparel. Holiday shirts have evolved from mere colors and patterns to vibrant designs, intricate artwork, and hysterically witty images.
What should you consider when prepping for the holiday season? Don't worry; we have you covered. Here's everything that goes into an excellent holiday shirt.
Brand
The odds are that you already have a favorite brand in mind when considering your go-to apparel options. If you followed our blog for some time, you know we wholeheartedly believe the right brand can make all the difference in your clothing experience. Whether you're looking for highly recognizable brands like Bella + Canvas, Hanes, or Comfort Colors or seeking budget-friendly options like Gildan or Fruit of the Loom, finding a reliable clothing maker for your holiday shirts is a must.
When you find a clothing company you can count on, you can trust their quality and wearability when you shop for holiday shirts. If you're making homemade holiday shirts for the whole family, the right brand helps ensure everyone has an excellent apparel experience to maximize your comfort and joy.
Material
No one wants itchy, uncomfortable t-shirts. As you gather with loved ones, the last thing you want to worry about is a disagreeable t-shirt. Choosing a high-quality material helps keep everyone cozy and happy when they don their holiday shirts. When in doubt, look for shirts made from top-notch materials like combed and ringspun cotton, polyester, wool, or blends.
Naturally, the material you choose largely depends on your holiday activities. For example, if your holiday tradition is a rousing football game in the snow, you will want an insulating material to keep your body temperature up. Contrarily, some cozy flannel shirts may be a better option if you prefer snuggling up next to a fire.
Whatever your seasonal activities, find the right material to match the mood.
Printability
If you're a custom t-shirt designer or a DIY type, printability is one of the most important factors in shopping for holiday shirts. Screenprinting, sublimation, heat press, and others all have picky demands for shirts. To print successfully and create vibrant, detailed designs, you MUST match the right material for the printing method. We cannot overstate the importance of ensuring your t-shirt is compatible with your printing method.
Design
Once you've found the right brand and material to create your holiday shirts, it's time to work on your design. This is when fun creativity comes in, and you can let your artistic spirit run rampant. Whether you go with a simple phrase or a classic seasonal character, your holiday shirt design should bring you joy and encourage cheer to those around you.
Here are a few design ideas for your holiday shirts:
Funny holiday shirts: Make others merry with a joke or funny quote
Beloved holiday character: Rudolph, Santa, the abominable snowman, you get the picture.
Quote from holiday classic films: "You'll shoot your eye out"
Loved ones' names/memories
The list could go on and on. Find something that makes you laugh, reminisce, or think about those you love, and make that your design.
Coziness
Spoiler alert: Everyone wants cozy holiday shirts they can wear year after year. Instead of just doing a t-shirt like everyone else, consider switching to a holiday sweatshirt this year for maximum work and comfort. Plus, making a custom sweatshirt is a fantastic gift in itself. Boom! Check that off your list.
Where to Find the Greatest Holiday Shirts
Whether you're a first-time holiday shirt creator or a custom t-shirt designer with a tradition of creating magic, find all you need with Blank Shirts. We'll keep your crew looking holiday-ready and fantastically festive.
---
Related posts