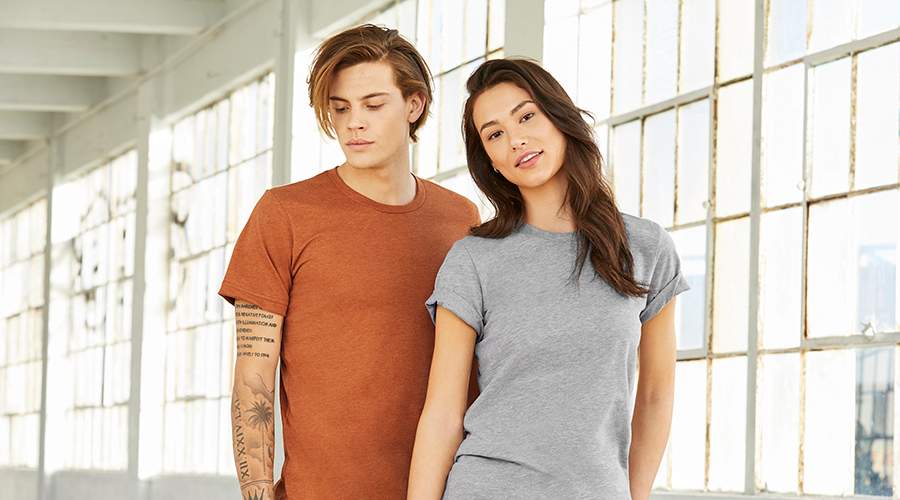 Sueded tees are the newest trend trying to become your new favorite shirt. Both Bella + Canvas and Next Level Apparel are coming out swinging with their sueded lines. While more manufacturers are sure to follow, we'll just set our sights right now on the Bella + Canvas 3301 Unisex Sueded T-Shirt.
Why "sueded"? Sounds posh, right? More than a little lux? But sueded? If this was a movie, we'd have to say that no animals were harmed in the making of these beyond beautiful shirts. But sueded? There is some truth in advertising here.
Let's think of leather versus suede. Full grain leather is smooth, while suede leather has that districtly fluffy look and feel. It's because suede has been sanded to create that distinct texture. And guess what? So has your soon-to-be favorite new tee.
That's the sueded secret. Yep, a sueded shirt has been sanded. It's no trade secret, but different manufacturers have their subtle sueded secrets. You've probably even done some sanding yourself. Yes, the misfortune of the sad sand. Know what that is? It happens when you've worn a favorite sweatshirt so much that we find little unsightly and uncomfortable nubs. It's called pilling. Yuck. Your own wear and tear has accidentally twisted the fibers of our favorite fleece with our own personal form of sanding. Love hurts. But sueded sanding? This is not that, we promise. No twisted-up knots or nubs, no way. In fact, the feel of this fabric has been compared to cashmere. An affordable cashmere feel? Yes, please.
The industry guarantee is that this sueded texture will never nub. Little bristles brush this preshrunk combed and ringspun cotton and polyester fabric to give it its oh-so-soft and fuzzy feel. Bella + Canvas even guarantees you can print on it. Some designs really use this texture to their advantage. The look is anything but boring.
If you love a unique look in a tee, are into budding trends, or are intrigued by its claim-to-fame softness, check out our sueded apparel as more brands are branching out.
Interested in the fine details on sueded? Check out this detailed video on exactly how Bella + Canvas gets it done.
---
Related posts