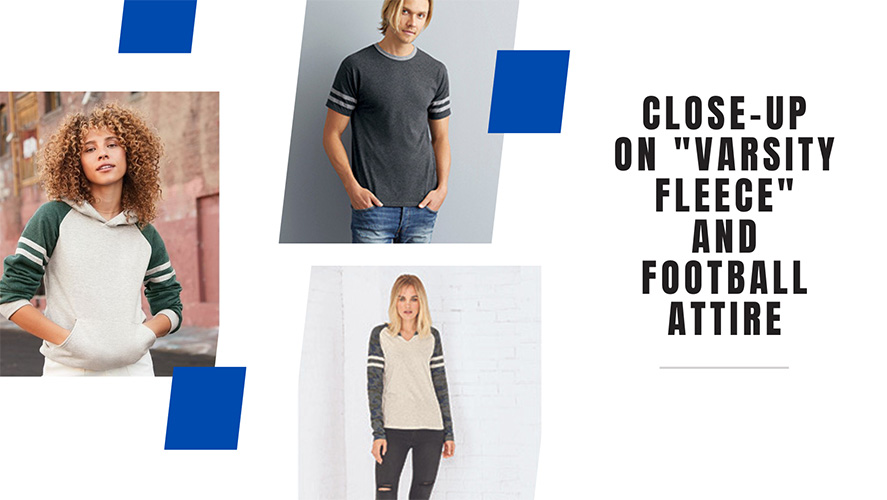 The Friday night lights are burning bright, and the band is in full march. It's time to talk football! Football season is closer than you think, and it's a good time to get to the field in your favorite gear like the varsity fleece and football shirts.
Our team has everything you need to know about the varsity fleece and what to wear to cheer on your favorite team. We'll cover the history, its popularity, and why football shirts are a must-have for the upcoming season.
A Brief History: How it Became a Football Staple
The varsity fleece was initially made famous in the United States college and high school football teams. The classic letterman design was originally tailored with wool and featured contrasting sleeves, ribbed cuffs, and the quintessential button-up design. Varsity fleece gets its name from being awarded to elite football team members and representing their athletic ability and prominence.
As time passed, these jackets became more than status symbols or mementos of athletic achievement. In fact, the varsity fleece became a style all of its own and is now a fashion mainstay. However, it retains its signature style and aesthetic.
Comfort Meets Style: What Makes Varsity Fleece So Great
In football attire, comfort rarely interacts with style, but the varsity fleece strikes that balance. This wardrobe staple features the classic style with modern innovation and manufacturing. These days, varsity fleece is more often associated with stripes or ribbed cuffs rather than the jacket.
The shift from athletic jackets to acceptable fashion makes the varsity fleece style a diverse option for anyone. The varsity fleece has grown beyond its original football roots with modern materials like premium cotton and polyester.
Brands to Watch: Where to Get Varsity Fleece
Now that we've covered what it is, let's talk about where to get it. The distinct style of the varsity fleece is widely prevalent among football fans and athletes. While you could find this distinct style anywhere, here are a few of the brands we love that offer items in the varsity fleece style:
Jersees: Jerzees designs athleticwear and fan apparel for various sports and activities. Their football shirts are some of the best in the biz and offer high-quality comfort.
L.A.T Apparel: L.A.T. Apparel has a distinguished line of football shirts and fan merch. You will love the high-end feel and make of their awesome apparel.
Alternative Apparel: Alternative Apparel offers excellent options on a budget. Their football shirt is among our best-sellers.
These are just a few brands we know and love for their football gear and fan attire.
Fan Attire Highlights:
Of course, we've got to give a shout-out to the fans! Here are a few fan favorites for cheering on your favorite football team.
We've got you covered for all your athletic apparel and football fan gear. Check out all your options today.
---
Related posts