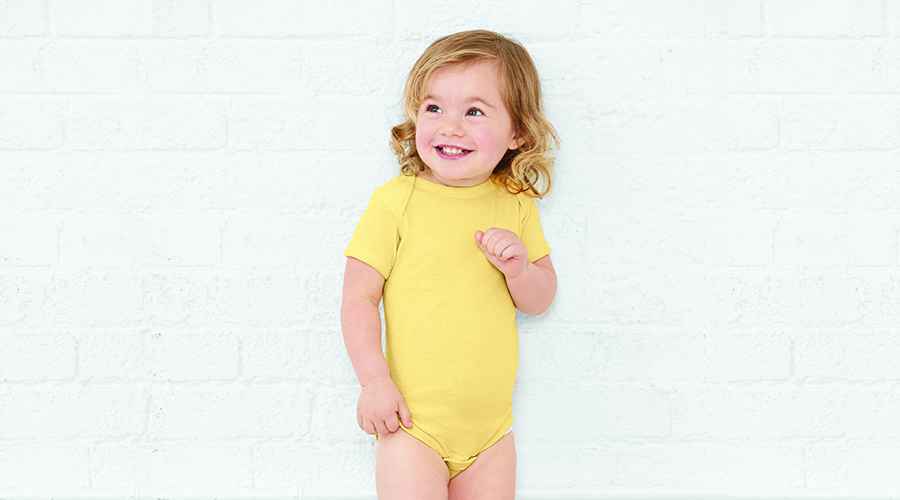 Oh, baby! Not all infant bodysuits and onesies are created equal. We care about our cutest and cuddliest customers, no matter how small they are. So when Rabbit Skins, an LAT Apparel brand, set themselves apart with safety and style in their infant bodysuits with snap tape technology, we wanted to let you see the difference for yourself.
What is snap tape? Why is it better than other onesies? Or maybe you're just wondering what a bodysuit or onesie actually is? Hey, even if you don't have a kiddo or two at home, if you're an artist, these tiny pieces of apparel are an easy sell. Who can pass up scooping up a pint-sized printed present? Here's why Rabbit Skins' snap tape makes this your baby bodysuit—or infant onesie—of choice.
First, bodysuits and onesies. The words are used interchangeably. Both are the adorable little garment designed to keep a youngster comfy and cozy while giving adults easy access to change a diaper. If you're new to this, it sounds like a few buttons, snaps, or worse, velcro, stand between you and a sleeping baby. Sounds simple, right? Not so much with other onesies. If you've ever tried to fasten buttons, heard the rip of velcro, or wrestled with snaps sewn directly into a onesie on a very squirmy baby, you'll be a big believer in snap tape. In the case of Rabbit Skins, it's a secure row of plastic snaps molded into woven fabric tape. No loose buttons or snaps falling off to worry about. And it's just three solid snaps per bodysuit. One, two, three, you're done. Rabbit Skins bodysuits have a snap-unsnap action that can be done with just one hand.
Let's talk looks. Unlike other brands, Rabbit Skins' snap tape is custom-color matched to their bodysuits. The look is seamless and much more couture than an average onesie. Snap tape has the ability to be garment dyed or tie dyed, and it's as easy to print on these bodysuits as any others. The difference between a Rabbit Skins bodysuit and a subpar onesie is that one will get worn while the other never sees the light of day beyond the baby shower. Considering expanding your product line? This is the one onesie to unleash your art on.
Keep it simple with the Rabbit Skins 4400 Baby Onesie with combed ringspun cotton in a 1x1 baby rib in almost 50 color and pattern options. The Rabbit Skins 4424 Fine Jersey Infant Lap Shoulder Onesie is great for printing on its super-soft combed ringspun cotton fine jersey with more than 30 color choices. Or go full-blown fashionista in the Rabbit Skins 4422 Infant Tutu Onesie. It's tutu cute. There're many Rabbit Skins onesies and bodysuits to choose from.
Is there really a difference? Rabbit Skins apparently scoured the planet to find the wiggliest baby to show how easy that quick-snap difference really is. Watch to see for yourself if Rabbit Skins can really keep their promise that this is a one-handed operation with their bodysuits.
---
Related posts