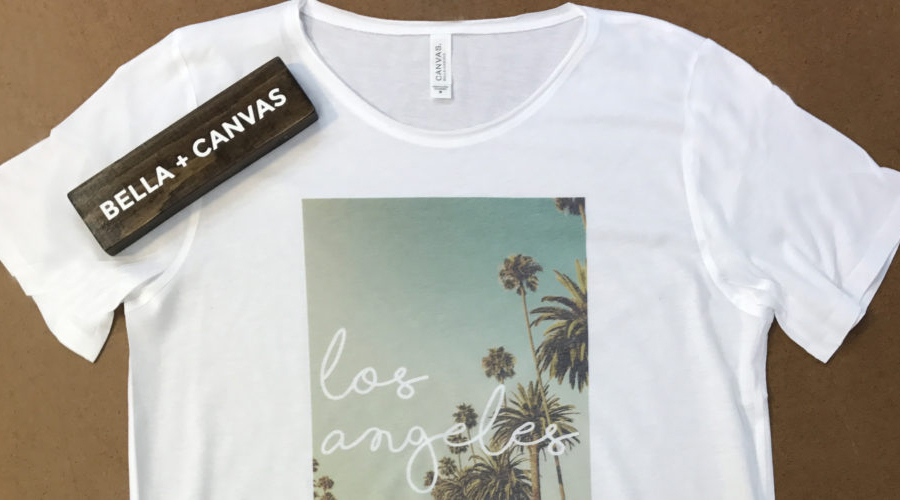 Sublimation printing is a technique that's gaining popularity. What's so special about sublimation? It's only the answer to easily printing on poly-blend tees like a boss. Bella + Canvas has no problem putting some of their most popular poly-blend tees up for the sublimation test. It's a sublimation how-to guide by one of the best brands in the business.
Printing on poly blends? It's not as easy as, say, pure cotton. But biblends and triblends are beyond trending. They're here to stay. A typical biblend t-shirt has, of course, two materials, usually a cotton-polyester mix. It's soft, so much softer than a cotton tee. A triblend is a mix of three materials, typically cotton, polyester, and rayon or viscose. And this is arguably the softest material on the market. Where things can get complicated is choosing a printing technique that will simultaneously work best with two or three materials woven together into one fabric. Poly blends are where it's at, so you've got to get your ink on what people want. So, sublimation.
Sublimation printing only affects the polyester yarns. Instead of trying to work around two or three different materials, this technique creates an interesting classic, vintage, or distressed look.
The process requires graphics to be digitally printed on special sublimation transfer paper. Bella + Canvas, working with a team at DTLA Print, tried out three of their bestselling t-shirts to see how they'd stand up to sublimation printing.
The t-shirts you'll practically have a go-to guide are:
Bella + Canvas 3880 Unisex Viscose Fashion T-Shirt
(65% polyester/35% viscose)
Bella + Canvas 3650 Polyester/Cotton Unisex T-Shirt in Slub
(Slubs are polyester/37.5% Airlume combed and ringspun cotton/12.5% rayon; other blends of this style vary)
Bella + Canvas 3413 Howard Triblend Short-Sleeve T-Shirt
(50% polyester/25% Airlume combed and ringspun cotton/25% rayon)
A few things to note. For printing purposes, Bella + Canvas has gone with some bold choices. A polyester-cotton would seem a logical choice, but a polyester-viscose blend makes an even stronger point how poly-friendly this inking is. Next is printing on a slub, which really plays up that vintage feel. We've subbed in another triblend with the same material makeup. The only difference is that their triblend featured has a brand-new raw neckline. Interested in us carrying it? Let us know in the comments!
See if sublimation printing on poly blends is right for you with Bella + Canvas' in-depth video.
---
Related posts