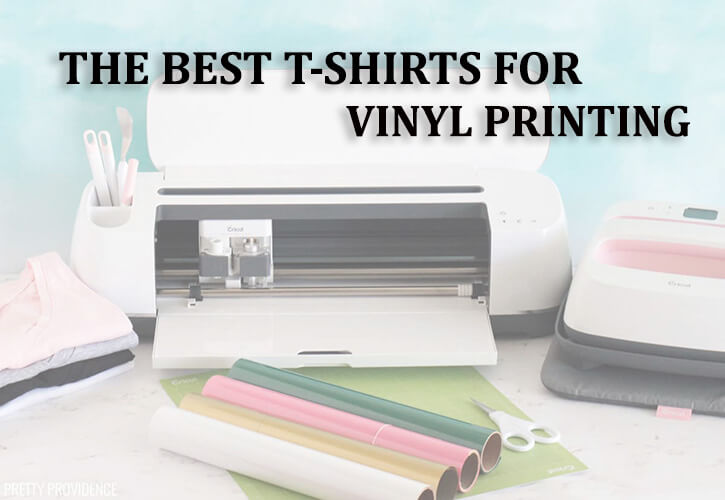 Though there are several different methods of creating custom t-shirts, we will be focussing on vinyl printing. As an extremely user-friendly method of crafting DIY custom shirts, vinyl printing has a wealth of opportunities for starting your own t-shirts business, creating incredible shirts for friends and family, or impressing your customers with custom shirts.
In this blog, we will dive into a deeper understanding of what vinyl printing is, what are the best blank shirts for vinyl printing, the best Cricut blank shirts, and vinyl printing versus screen printing. Join us as we cut deep into the wonderful world of creating vinyl-printed shirts.
What is Vinyl Printing?
Vinyl printing is one of many methods that use heat to transfer the artwork onto a surface. The artwork is cut from a solid sheet of vinyl and then positioned onto the shirt or the item that is being customized. Once the vinyl artwork is cut and in the correct position, it is then heat pressed to melt the vinyl and adhere it to the shirt.
Vinyl printing on t-shirts is a simple, cost-effective method of creating custom shirts that provide flexibility in design and a user-friendly creation process. One of the appeals of vinyl printing is that it can be done at home with a Cricut machine or a cost-effective cutter. This means that all you need is the cutter, the vinyl, and the blank shirts for vinyl printing, and you can create your own custom shirts.
Vinyl Printing vs. Screen Printing
Another popular customization method is to screen print on t-shirts. Screen printing involves adding a design to shirts by overlaying screens to stencil in color and design. Though this can be a more cost-effective method for creating bulk custom t-shirts, it does have some limitations.
Screen printing will not allow for more complex designs as vinyl printing and can only offer a combination of a few colors. In contrast, vinyl printing allows a more complex design and is generally more cost-effective for smaller batches of t-shirts.
What are the Best Blank Shirts for Vinyl Printing?
One of the beauties of vinyl printing is that it can be applied to a wide variety of materials and fabrics. When looking for Cricut blank shirts or blank shirts for vinyl printing, you could use a cotton jersey shirt like the Hanes 5280 or the Hanes 5250T. Some of the best options are going to be made from cotton or cotton blends to adhere correctly. With a giant selection before you, the possibilities are truly endless for getting a great set of blank shirts for vinyl printing.
Get Blank Shirts for Vinyl Printing from BlankShirts.com
Check all the options for Cricut blank shirts and blank shirts for vinyl printing and start making your own custom shirts today.
---
Related posts