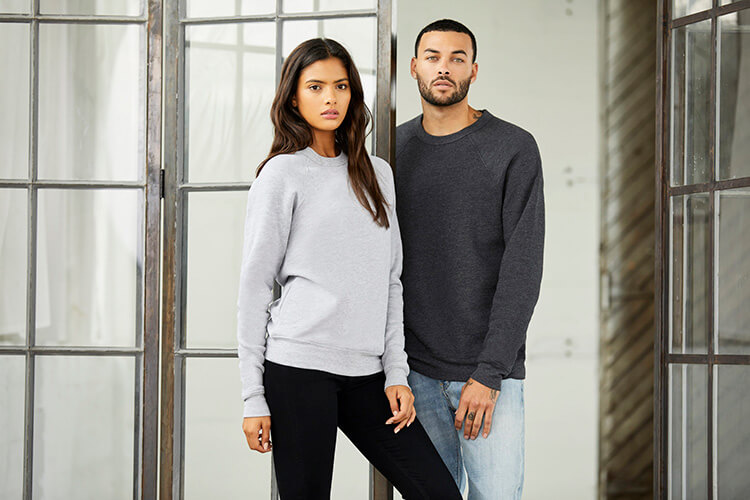 Anyone who has ever attempted to print on a fleece garment knows that the smallest issues can create big problems with how the garment turns out. Here, we'll be looking at how one of top apparel manufacturers, Bella + Canvas, suggests to pull off the perfect print on their signature fleece line-up.
1 - Adjust the Off-Contact Measurement
Off contact is a measurement in screen printing for the distance between the screen and the surface of the substrate. Because fleece is a thicker material, raising the off contact about 1/8 of an inch between the garment and the screen can help prevent smudging.
2 - Use Lower Mesh Count Screens
Laying down a screen with a lower mesh count on the base layer helps flatten out the fleece fabric so there is a smooth surface for printing. Bella + Canvas recommends a 135 mesh count screen on the base layer and then a 225 mesh count for top layers.
3 - Proper Adhesives Are Vital for Printing on Fleece
While a roll-on water-based tack may be great for jersey knit fabrics, fleece requires special consideration. An aerosol adhesive spray works great for each platen that's being loaded with a fleece for printing. This may seem like a small detail but it will make a huge difference for making sure the fleece stays put on the platen.
4 - Pre-Flash and Flatten the Fleece Fabric
This is a bit of an advanced tip for getting truly professional results. A pre-flash shrinks the fabric while the flattener screen locks the fleece down onto the platen. Doing this will set up a smooth and uniform print surface for your designs.
5 - Lower Flash Temps
Screen printers know you have to be careful with flash temperatures around fleece. The fleece can be easily scorched, warped, or just move around at too high a temp. Between 220 and 260 degrees is ideal for both water-based and plastisol inks.
6 - Create "Fleeceable" Designs
One of the top tips Bella + Canvas suggests is using designs that are print friendly for fleece by minimizing color count, registration limit, and amount of detail.
See how the process looks live by watching the video below.
---
Related posts