It's summertime—the grill is always on, the yard is growing way too fast, and the heat index is hitting its peak. When the heat starts getting unbearable, the right summer shirts can make all the difference. Whether you are outside working in the yard, going for a hike in the woods, or walking to and from the pool, here are five men's summer shirts that every guy needs and the materials that they are made of.

Materials Matter
Before we dive into the specifics of which are the best summer shirts, we need to look at the materials that they are made of. Some of the best summer shirts for staying cool and comfortable are going to be made from natural materials such as cotton or blends like cotton/polyester. Starting with the right materials promotes moisture-wicking tendencies, keeps you dry, and helps you defeat the heat in style.
1. Cotton Summer Shirts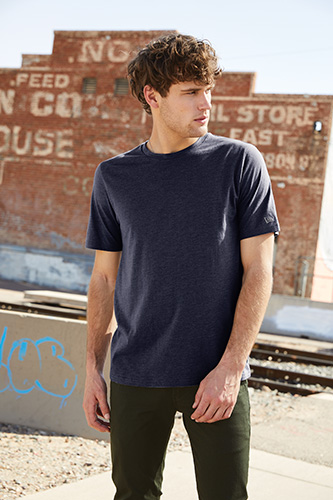 Cotton shirts are naturally one of the first materials that make the best summer shirts because of the many benefits cotton provides. With natural breathability and absorbent qualities, cotton makes fantastic men's summer shirts. By pulling moisture away from the body, cotton shirts will keep the sweat and moisture off of you on those blazing summer days.
2. Performance Summer Shirts
Another fabric that makes perfect summer shirts is a cotton/polyester blend. This blend of materials combines the breathability of cotton and moisture-wicking properties of the polyester to create quality performance shirts. Often used for sports and athletic activities, performance shirts are excellent choices for men's summer shirts because they help fight off moisture and odors.
3. Bella + Canvas 3001CVC
Combining heirloom combed and ringspun cotton with polyester, Bella + Canvas has designed the 3001CVC heather t-shirt to have a super soft hand feel and wick away sweat and moisture. Available in brilliant colors and made with quality fabrics, these summer shirts are sure to be one of your favorites.
4. Gildan 64000
Gildan has created the Gildan 64000 to do more and cost less. Created with a cotton/polyester blend, these men's summer shirts have prioritized comfort, softness, and all-day wearability. With over 60 colors to choose from, you can have these super comfy summer shirts in all your favorite colors.
5. Next Level 6210
Last on our list is the Next Level 6210. These luxurious summer shirts are made from combed and ringspun cotton combined with polyester to be the perfect shirt for a hot day. Made to be comfy and cool all day, these help keep you dry and dry and cozy even in the heat of summer.
Find Perfect Summer Shirts at BlankShirts.com
Now that you've got a head start, check out all our summer shirts and find the perfect fit for you. Stay cool and dry this summer with a better selection from Blankshirts.
---
Related posts