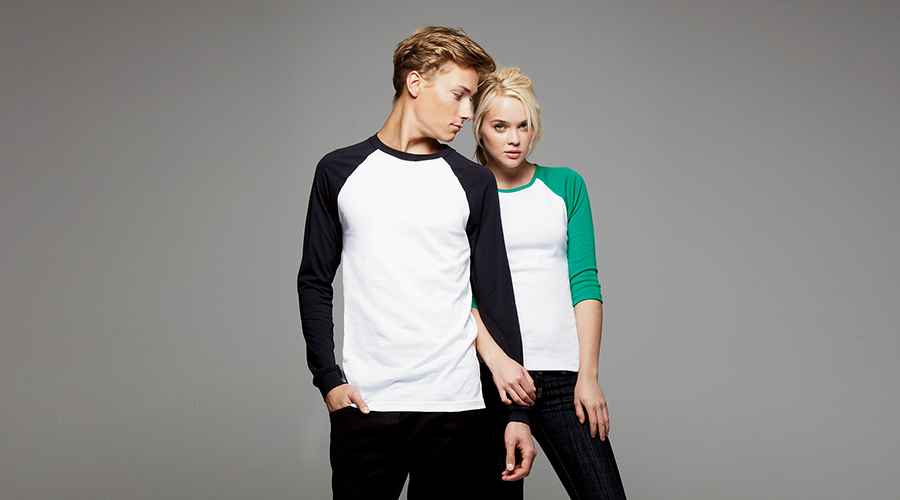 The raglan shirt, affectionately known as the baseball tee, never takes a season off. Yes, the traditional raglan t-shirt is still used on the field because those contrasting colors make your team versus theirs still stand out. But here's how a raglan-style t-shirt can really up your game, whether you're dressing to impress or considering a shirt to print your artwork. Baseball season is only a few months, but the raglan shirt is always in style.
The Traditional Raglan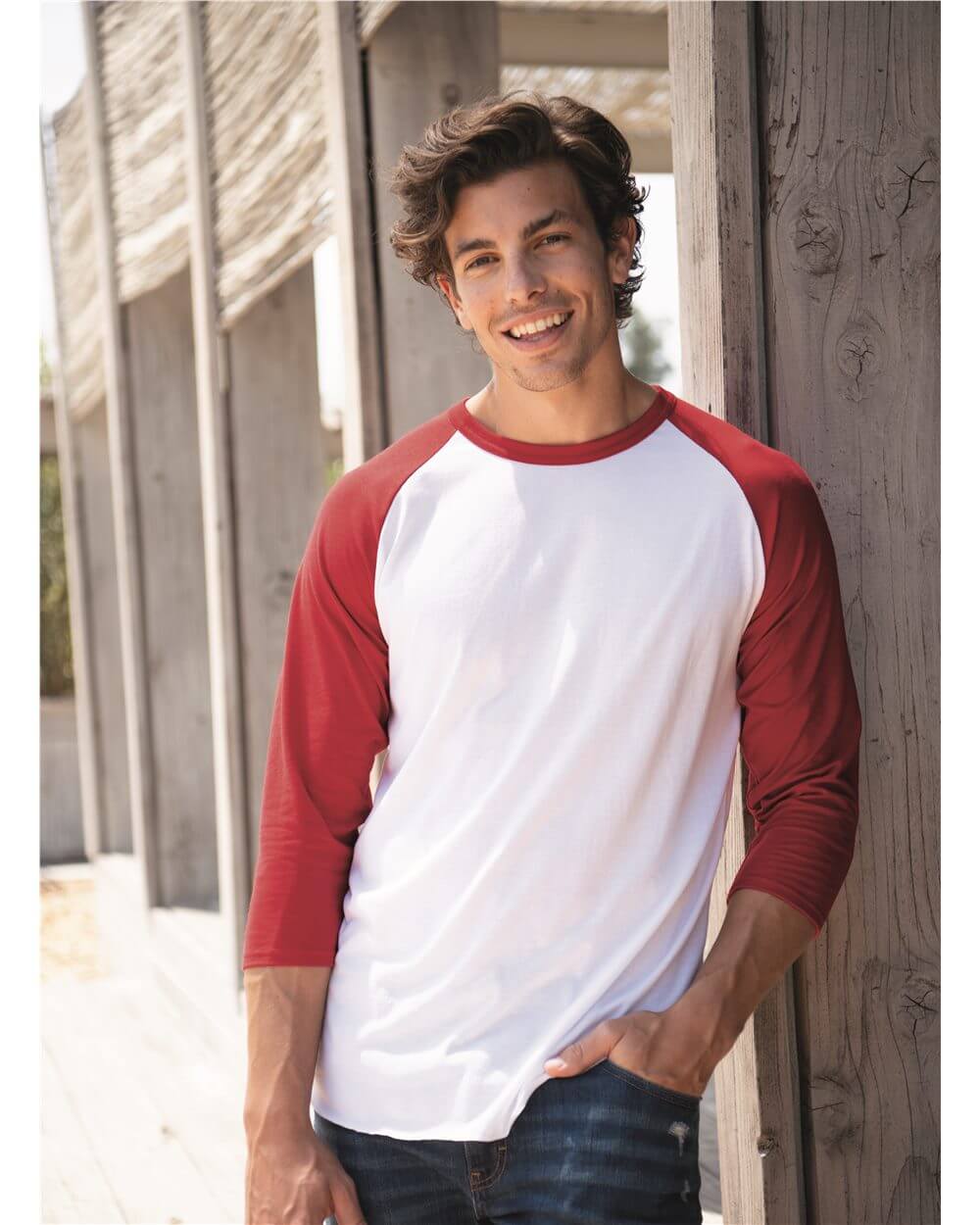 Batter's up, right? You know a traditional raglan t-shirt when you see one. It's best known for its three-quarter length, its rounded bottom hem, and those bright and bold colored sleeves and collar contrasting a white t-shirt front and back. This look proudly proclaims that it's game on!
Here's the traditional raglan t-shirt that you know and love, the Jerzees 560RR Premium Blend Ringspun Three-Quarter Sleeve Raglan Baseball T-Shirt. It's your three-quarter sleeve, round hem, color combos of red and white, blue and white, black and white. You sported this look in softball. Maybe you're wearing it for kickball this Thursday. You could have worn it in t-ball, even. We're not knocking this tee at all. It's still wildly popular for a reason. Beautifully basic, fully functional, but breathtakingly bold. In fact, even with this traditional tee, there are moisture-wicking properties. Traditional never looked or felt—or even smelled—so good.
Let's be honest. We all know the baseball tee is a sports favorite. It's how you know in an instant who your teammates are so you don't accidentally throw the ball to the opposing team. Yikes. But for all that sports talk, get off the field, man!
Lord Raglan
The word raglan made it into the dictionary in 1964, and that's where we imagine those sports tees were gaining popularity on and off the field.
But its origins take the raglan tee away from that kind of field and onto a completely different one, as in a battlefield. Baseball only? Tell that to Lord Raglan. We kid you not. Don't try to steal it, that title is already taken. Lord Raglan, the first Baron Raglan, was said to have worn a coat with the sleeves of this modern-day style after the loss of his arm in the Battle of Waterloo. That greater movement a raglan tee allows? Yeah, pretty important when you've lost your arm in battle. And this style allowed him more mobility to use his sword in battle. We usually take a loss in sports pretty seriously. Lord Raglan apparently really didn't take a loss and went on sword fighting. Just make a makeshift coat and carry on.
So you can't have the title of Lord Raglan, sorry. He was very real. You're probably not a swordsman. But we want you to be just as bold today in your fashion. Lord Raglan would have wanted it that way. Let's move into today's raglan styles.
Be Raglan Ready
Raglan is a style. You've already read it was officially a coat, not a tee. And while today's tees can still be found in that a recognizable raglan, there are so many more styles on the market. Sorry, no coats, Lord Raglan, but we're talking raglan-style polo shirts, sweatshirts, hoodies, zip-ups, pullovers and v-necks. They're also in short sleeves, long sleeves, and in all sorts of color combos. Unisex? Sure, but we're talking specially made for men, women, kids, and even babies. Please keep your toddlers off the battlefield, of course, our legal team has told us to remind you, but there's a raglan style for everyone. And why should you be wearing it everywhere and anywhere? Well, because of its bold look.
Can anything be raglan? Well, the raglan style is a sleeve that extends in one solid piece fully to the collar, creating that noticeable diagonal seam. It really is athletically inspired because of this greater range of movement. But the raglan look is an eye-catching style in its traditional takes or modern-day models. Be bold and let's get raglan ready.
Make Your Mark, Marketers
You're a marketer with an upcoming event for your company. We know. It's CVC, baby. That is, you've traditionally gone safe and ordered a traditional cotton tee for giveaways. It's a safe bet, always. But to the brave, go the spoils.
Start standing out from the competition with a raglan t-shirt. Upgrade to a raglan tee like the Next Level Apparel 6051 Unisex Tri-Blend Raglan T-Shirt. Here's why we picked on you, marketers. You've got a boss breathing down your neck about a budget. These are so affordable, it's almost unthinkable to print on a regular tee. Take this to the bank. You can even afford a tri-blend, the trending material for its super softness. This is one takeaway tee that won't end up in the trash.
Print on on a Raglan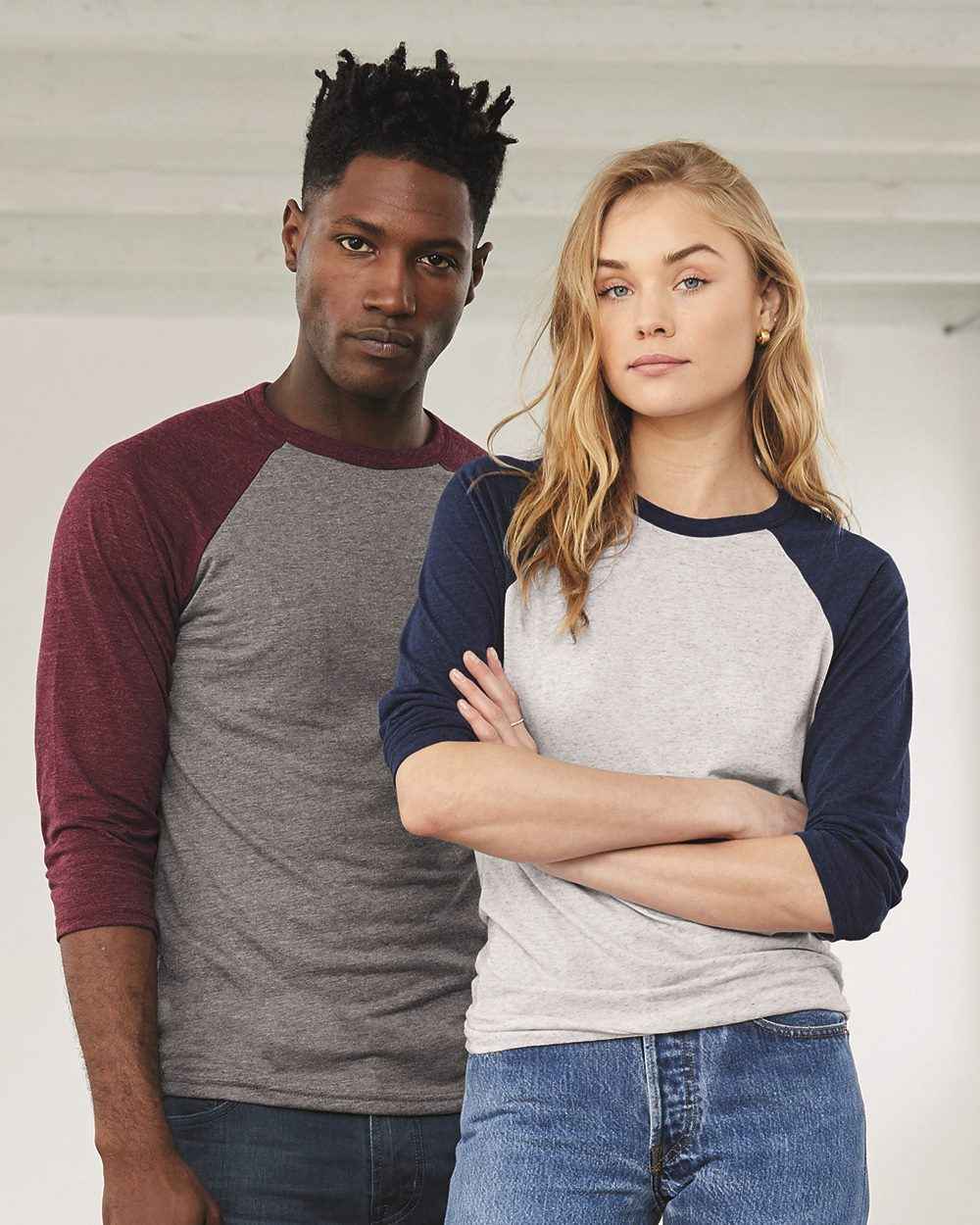 Printers, you're your own boss, but you've got to be brave, too. Let's take the crazy popular Bella + Canvas 3200 Unisex Three-Quarter Sleeve Baseball Raglan and add some ink. Think big. Yes, you can go one color and match your sleeves. On white, will that ever stand out. But you can even use a darker or heathered body. We dare you to go with a gray-maroon color combo.
And while you're at it, consider your other customers who aren't into unisex. Utilize your artwork on the Bella + Canvas 2000 Women's 1x1 Rib 3/4 Sleeve Raglan T-Shirt. We're sure you've noticed your customers love the fit that feels best. Let's put aside that these are super soft airlume combed and ringspun cotton. If you're about to do your design on a raglan, include that women's cut to make your tees move off the shelves.
Wait, print my art on a raglan? Will these sell? Heck yes, says Lord Raglan. Just play around with a raglan.
Fierce Raglan Fashion
We've already teased on the takes of the baseball tee. Ready to go full-on raglan fashionista? Whether you find these in a pop-up stand with artwork or buy them blank right here, get ready to rock your raglan world.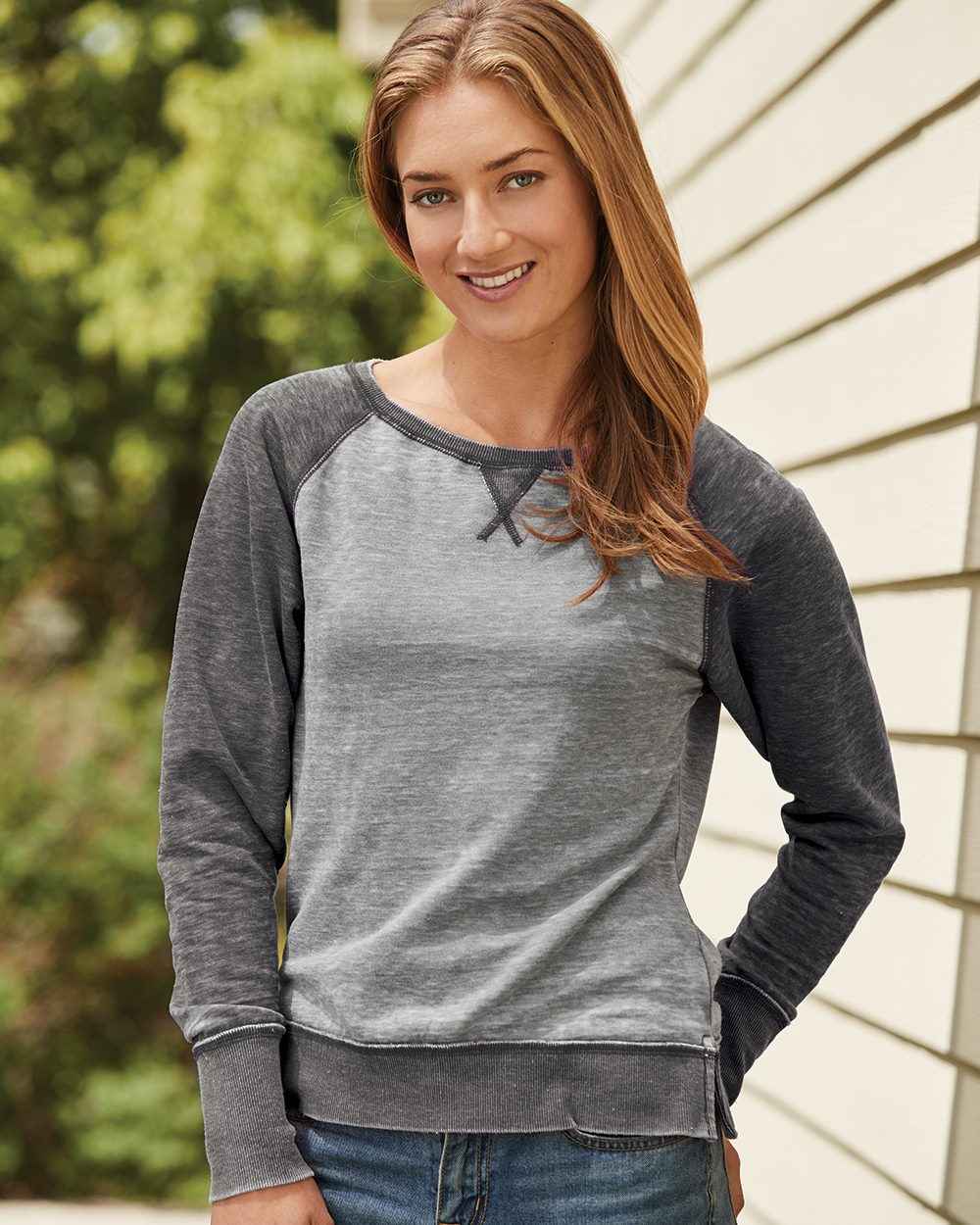 Your raglan tee doesn't have to be three-quarter sleeves. In fact, we've already mentioned you can go long in long-sleeves or short with that same ranglan look. But let's really go into overtime with the fastest-moving trends that'll hit you blank or be rocking some cool ink.
In this seasonless style, think sweatshirts and hoodies. Especially hoodies. Afterall, wearing hoodies is, like baseball, practically a national past time. Try sporting the Russell Athletic 693HBM Dri-Power Raglan Hooded Pullover Sweatshirt. A raglan style takes a pullover hoodie and adds some interest. It's all the color combos you remember in a traditional raglan shirt, although we admit that the oxford-true red is a homerun. But raglan style is a much more fashionable take on the typical hoodie.
Sweatshirts have already gotten some major upgrades from when they were part of the simple sweats style that only had couch appeal. The J. America 8927 Women's Zen Fleece Raglan Crewneck Sweatshirt is fiercely fashionable. It's not just some wild hues that's making news. This piece already has major appeal with an acid wash and silicone finish in burnout fabric. What's that mean to you? The distressed look and comfort you didn't have to break in yourself. But the extra oomph is all raglan. Uniquely you colored sleeves, collar, waistband, and patched "V" in the collar against a contrasting gray. Yeah, you could wear this to softball practice. We almost guarantee you never will. It absolutely looks too good to get muddy.
Rock the Raglan Revolution
When and where should you wear a raglan? It's absolutely surpassed sport and its original style. But go traditional or try a new take. Yes, wear it to practice, but it's now available to be your most standalone piece. It's even surpassed its athletic inspiration. Wherever you wear, whatever you do, however you print, think beyond your traditional tee. Because it's go big or go home when you've gone raglan.
---
Related posts