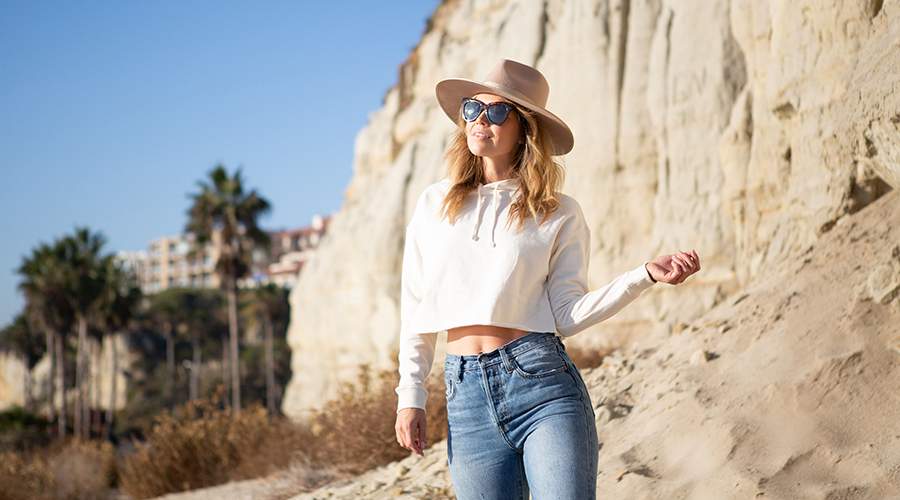 A crop top is so small, but bold, so let's make a small-but-bold statement: Cropped is a style. Let's stop calling crop tops a trend. No, this so-called "trend" has gone into staple status. A lot of fashion forecasters are nosticallically calling cropped tops a throwback to the '90s—a craze that will be quickly over—except these so-called experts have been saying this for years. Flashback to how many times cropped tops have cropped up over time. Some of these cropped styles of today are a whole new look. Cropped case in point? The cropped hoodie. The '90s have nothing on this unique piece of fashion. The cropped hoodie is so very now.
In the wave of all things cropped, you'll find tees, tanks, long-sleeve shirts, sweatshirts, and hoodies. The cropped hoodie is so unique and chic, though, it deserves to be highlighted all on its own. Let's talk cropped hoodies, how people are wearing them, and how this look isn't going anywhere.
What's A Cropped Hoodie?
That's a legit question. What constitutes a cropped hoodie? Or, you might be asking, how can a crop dare call itself a hoodie?
When you're thinking about hoodies, maybe you're conjuring up crisp autumn nights, that fantastic fleecy goodness, and a hood to protect you from all the elements. Besides that oh-so-necessary hood, this piece of apparel has come a long way. You might love a heavyweight material. Or favor a lightweight feel. Maybe fleece is your thing. Or you're thinking of the thinnest t-shirt feel. You'll still find these options in a cropped hoodie. Maybe that's why the cropped hoodie is getting so much attention. There are still so many features to play with in this whole new style.
Once you find your favorite cropped hoodie, here's a start on styling. Feel like a cropped hoodie is only for the bold—and the cold? It's much more wearable than you might think, and you can choose your level of warmth. Get some wear out one of the smallest pieces of apparel, the cropped hoodie.
Enter Athleisure
Here's a term you may have heard of: athleisure. It's all about taking comfort in your clothes, but we're not talking about ratty sweats or old college t-shirts that used to be the king of casual. Take comfort, it's a relaxed look you'll actually want to be seen in.
Athleisure if the art of taking comfortable clothing and making it everyday chic. Did you just come from yoga? Maybe. Did it take hours to craft that casual-but-kempt outfit? Who knows. Is your ensemble actually undercover designer duds worth more than an annual salary? Perhaps—wait, no, not here, no way. We help you do athleisure without the designer price tag. And athleisure is the perfect place for a cropped hoodie.
Gym Class Hero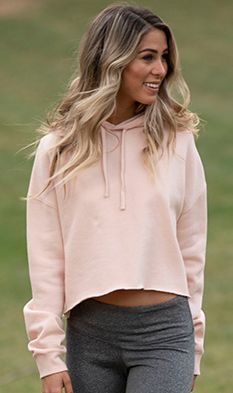 This is the ultimate athleisure look, where spin class meets coffee date. Except with the athleisure look, you can skip the spin if you want and just go straight for the lattes.
What better way to breeze through the doors of your local coffee house than to don that cropped hoodie with leggings? You're no slob, though. No stains, no holes, only a raw hem to give this hoodie a distinctive DIY look. Care to rock that carefree look? Try the Independent Trading FX64CRP Women's Lightweight Cropped Hoodie. This cropped hoodie is so well paired with your lux leggings and yoga pants because it's all you'd expect from a hoodie, just in a stylish crop. We're talking the feel of fleece, a midweight you love, in all the comfort of a pullover hoodie.
Does showing a sliver of skin take all the comfort out of this easybreezy ensemble? Add a layer underneath. A visible tank doesn't ruin this look at all. A fitted top underneath a cropped hoodie creates a flattering silhouette. Cropped hoodies are for everyone, whether you dare to go bare or layer for a little bit of intrigue and interest.
Beautifully Blended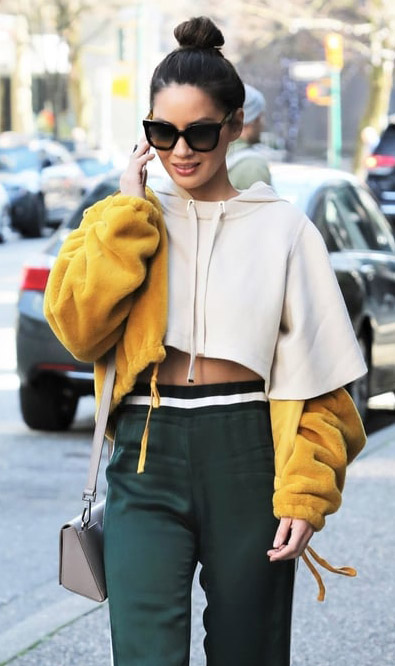 The cropped hoodie isn't just for leggings alone. In fact, cropped hoodies are the perfect experiment for mix-and-match athleisure. A cropped hoodie has the power to make an outfit more interesting or to bring an over-the-top ensemble down to earth. It's that versatile.
Celebs like Olivia Munn is mixing it up to bring a designer look down. Try a similar look with the Bella + Canvas 7502 Women's Cropped Hoodie, another on-trend crop in an easygoing hoodie. A midweight fleece means it looks and feels like an ordinary hoodie, but in that stylish crop. But just what look are you going for?
Take this cropped hoodie as the most blendable piece in your closet. Going for easygoing? Pair it with distressed jeans. Your focal point just became that on-trend cropped hoodie. Your broken-in jeans just got upstaged by this powerful piece.
But the most interesting way to blend is by using a cropped hoodie to take a too-perfect outfit down a notch. We're talking throwing a cropped hoodie over a dress or pairing it with a skirt. Designer jeans and heels with a cropped hoodie on top. A cropped hoodie brings high fashion down a notch. The most brazen are blending leather jackets, dad hats, and cropped hoodies. For every ultra-expensive piece, a little bit of athleisure thrown into the mix makes any ensemble more casual. Remember when borrowing your boyfriend's coat would ruin your outfit? Decades ago, you'd probably rather shiver all night than mess up your perfect look. Where's that guy now? Wearing his sweater now over your dress would be perfectly on-point, except a cropped hoodie is even better. A crop is decidedly yours. And you're not wearing it because it's cold. You're fine with being cool, actually.
Use a cropped hoodie to dress an outfit up or bring it down to earth. It's the gateway to both worlds. Mixing it up is still athleisure.
The Polished Piece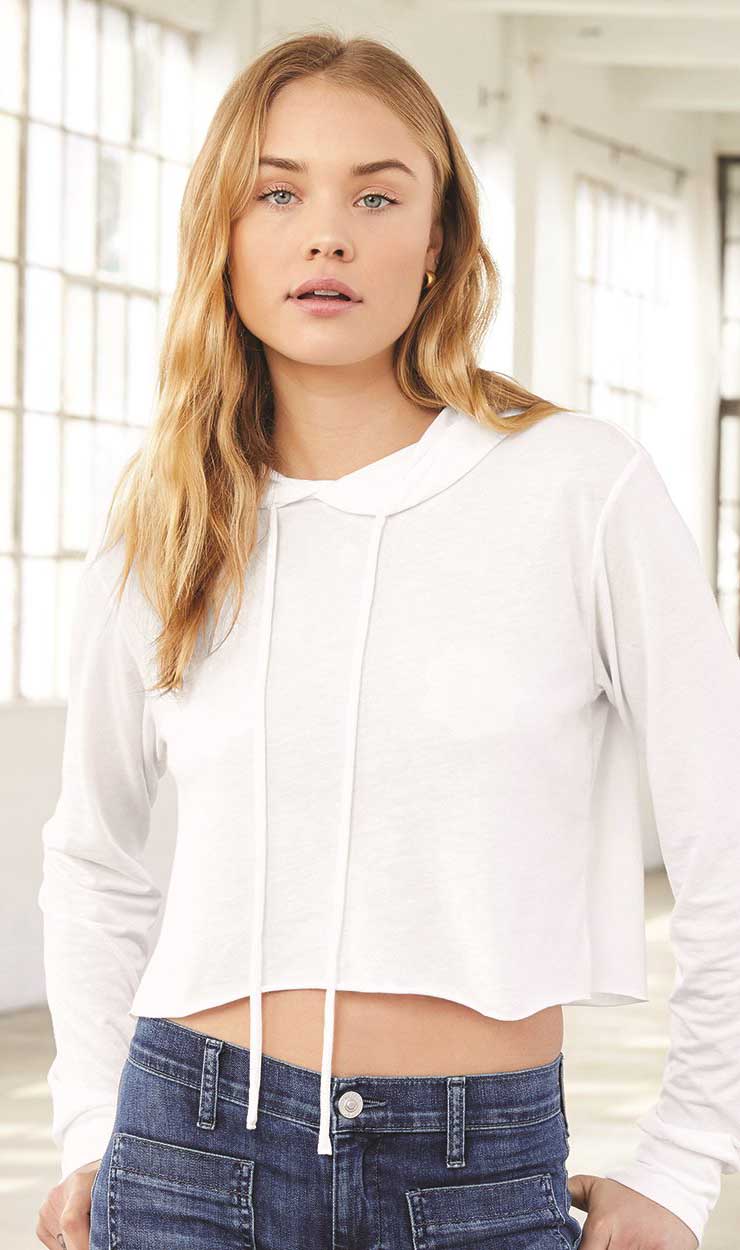 This isn't about blending, anymore. This is all about recognizing the cropped hoodie to be a standalone. There's nothing ironic about this look. You know you've got an awesome piece of apparel, and it's time to show it off.
Can this be done with any cropped hoodie? Absolutely. But the Bella + Canvas 8512 Women's Triblend Cropped T-Shirt Hoodie is one you'll want to wear alone. It's a triblend—that super-soft mix of polyester, Airlume combed and ringspun cotton, and rayon—to make it feel like your favorite t-shirt. Forget fleece here. This cropped hoodie is much thinner than its fleece counterparts, especially if you've never experienced a t-shirt hoodie before. What makes this so wearable is its flattering drape. No coverup act here. It's meant to wear alone. Instead of covering you up, this cropped hoodie is the main attraction. It's the stylish centerpiece of any outfit.
It's time to wear a cropped hoodie with full intentionality. Pair it with some great-looking jeans to show off this unique piece. It's still a casual look, as hoodies always are, but with a fashionable edge. There's no need to overthink this look. It might even be even easier to wear than any other cropped hoodie style. It's throw-and-go style, while still staying fashionable. Celebrate this cropped hoodie instead of playing it down. Still afraid to go bare? Bare just a bit with high-waisted jeans.
However You Wear
Whether you play it down, dress it up, or wear it without a care, the cropped hoodie is supposed to be a blend of casual, cool, comfort, and confidence. "I just threw this on" is the new "I've had this old thing forever." The look is easygoing. Maybe you did just come from the gym, maybe you do look this fabulous just rolling out of bed. You're as carefree as you want to be. One thing's for certain. You may be on-trend, but you're actually completely comfortable. Afterall, that's what athleisure's all about. And a cropped hoodie is the most fashionable way to show that simple style.
---
Related posts