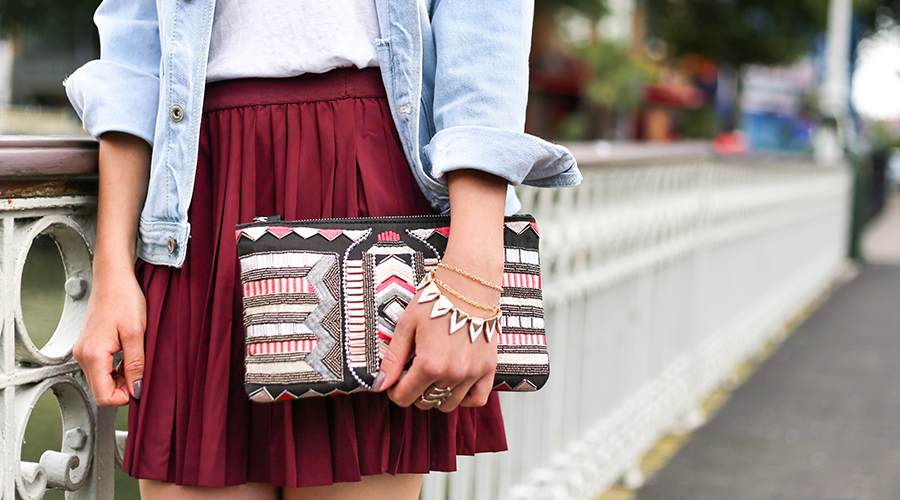 What actually is the classic white t-shirt? Men have been sporting the so-called classic white t-shirt longer than women. You can probably picture that classic white tee just paired with jeans. Sure, that's the iconic look—for men. But for women, that classic white tee can be so much more. Styling the classic white t-shirt for women offers so many alternatives than the tee-and-jeans combo. That's always a popular option for women, too, but even the jeans-and-white-tee look has gotten a few upgrades.
We'd love to offer even more options for women wanting to make a classic their own. There are also so many "classic" white t-shirts to choose from, and it's not a one-size-fits-all situation when it comes to style. Here are a few picks from us to get you started.
The unisex look, you'll see, still pairs nicely, even stylishly in certain circumstances. Keep it simple with the unisex Gildan 980 Fashion Fit T-Shirt. A missy style is cut for a woman, but with a more relaxed look and feel than fitted. Try the Bella + Canvas 6400 Missy Short Sleeve Crew Neck T-Shirt. Feeling like you want a fitted tee? Good, because we still feel the Next Level Apparel 1510 Women's "Ideal Tee" T-Shirt fits in nicely as a classic white tee.
Pick your own classic white tee and let's start styling. Here are five ways to make the most of a white t-shirt.
Top off a Skirt

It's not that skirts are necessarily feminine. In fact, the whole country of Scotland and their kilt-wearing men would take great exception. Here across the pond, however, there can still be a natural tendency to pair a skirt with an ornate, decorative, or even dainty top. It's time to let skirts have a little fun, though, with help from the simplicity of a white tee. When it comes to skirts, it doesn't matter if you favor maxis or minis, tulle or denim, pleated or pencils, solids or stripes. Any skirt could—and should—get the chance to be paired with a white t-shirt.
Simple is the key that makes a white tee work. Many skirts don't need competition. Finally, pairing a busy pattern to the simplicity of a plain white t-shirt makes your skirt really stand out. This even goes for your elegant skirts, as well. Give your tulle the attention it deserves or let the focus be on that skin-tight pencil skirt. Both would be perfectly paired with a tucked-in white tee.
There's yet another reason to couple a white t-shirt with a skirt. Skirts were invented to give us some mix-and-match variety and also for our own comfort. If we wanted the prim-and-proper look of a matching skirt-and-top combo, there's already a piece of apparel for that: a dress. Get comfortable with a white t-shirt, then throw on a stylish skirt to add a little polish. It's an easily thrown-together outfit that looks more polished than just jeans.
Lighten up Leather

Why so serious? That's the way leather can look. If you're a fan of the iconic look of James Dean or Marlon Brando sporting a black leather jacket over a classic white tee, you might be wondering why this combination is being touted as anything new. It's really not new, if you're a guy. The Dean-Brando movement was controversial at the time, so be a rebel without a cause as a woman.
Unless you're a cowboy, leather can look formal. We're not just talking about your typical black leather jacket needing a makeunder. Think coats of any color, skirts, pants, and even vegan leather, like leggings. Every instinct is to pair those costly coats or skirts with sharp-looking tops for an elaborate look. We all know that leather is luxurious, which is why pairing it with a classic white t-shirt makes the look delightfully ironic.
You might easily imagine wearing that white tee under your leather jacket. A fitted t-shirt adds a feminine touch, a looser one adds a nonchalant look, and a unisex fit really downplays what could be an uptight look. A good experiment might be an in-between tee, like a missy cut, tucked into a black leather skirt.
And wrinkles? Why not. Rebels don't iron, ever.


Tuck, Twist, Tie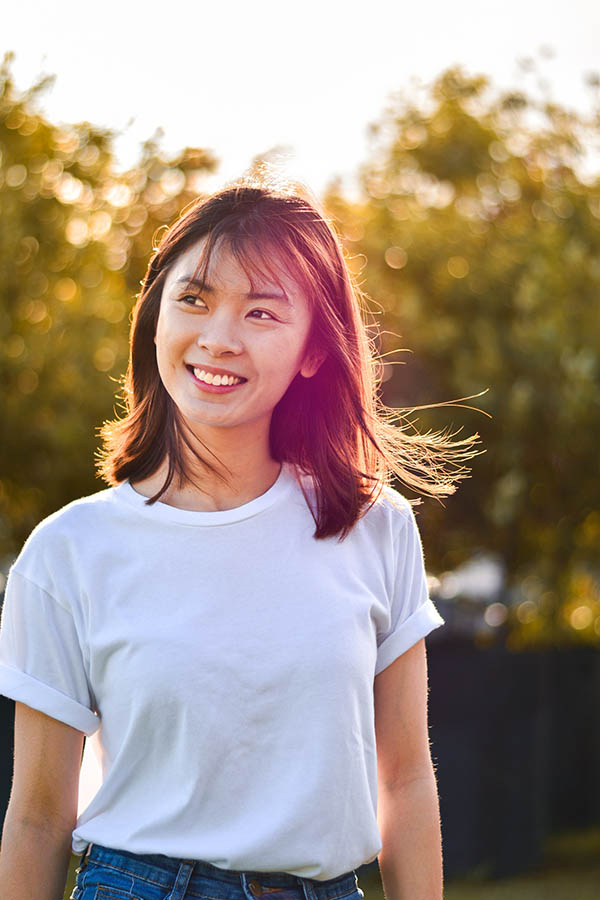 Tuck, twist, tie? When unisex was the main choice for t-shirts, some women wanted to make that unisex tee their own. These techniques today, as it was then, is all about adding some personal panache to an otherwise sexless style.
Let's talk tuck. There's the full tuck and the front-half tuck. The full tuck looks more intentional. It's gained momentum with the revival of high-waisted jeans. A fully tucked white t-shirt showcases all that denim without overpowering it. A fully unisex white tee might prove to be too difficult to comfortably tuck, so choose a slimmer cut to avoid bunching. A front-half tuck is fast and furious. It looks like it was done in a hurry. Just tuck a handful of the front of that tee into your regular or low-slung jeans for an effortlessly cool look. And bunching is a-okay, so even consider a looser fit.
The twist is all we can think of to describe this trend. It could be described as a cuff, but a cuffing of the sleeves has a very distinct look and is very different from twisting or rolling the ends. Let's look at a cuff first. A cuff looks much more proper and pristine because it just is. Just start folding. Flip the cuff back inside out and fold back a few times, keeping the width the same. Nope, no wrinkles here. It doesn't have to be perfect, but it's more precise than a twist or roll. For a less formal look, your folds are almost rolls or twists. It's a looser look where wrinkles are allowed—or even leave one roll lower than the other. Whichever you favor, the added touch of a cuff, twist, or roll gives a classic white tee distinct detailing.
The tie is exactly how it sounds. Take a bit of that bottom hem of that white t-shirt and tie it up to form a knot. It's a throwback that pays homage to many generations. The most popular knot today is the front knot that reveals some midriff. The knot looks like an afterthought as you walk out the door.
What do you pair with the tuck, twist, and tie? Anything. Any technique adds a bit of style to a white t-shirt.


Toss on a Blazer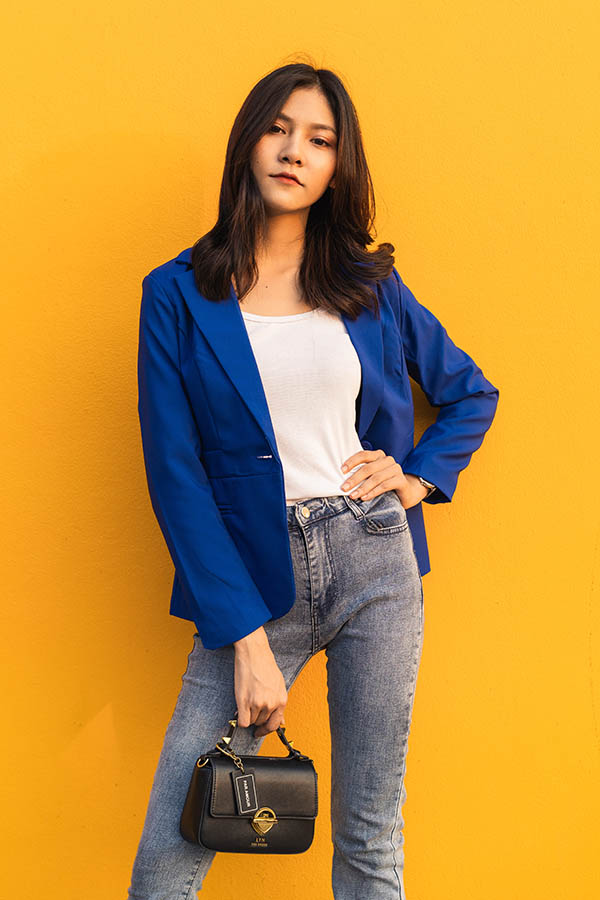 Blazers somehow and somewhere got a bad rap. Maybe it's because of the bulky shoulder pads that once donned them all or because of the now-defunct suit-and-skirt Ally McBeal look. But the blazer alone? The modern-day version is finding a life of its own, minus the matchy-matchy pantsuit.
The blazer is blazing new trails and getting a new lease on life. Scout some great finds at thrift stores or buy brand new. The trend is throwing that blazer—sans shoulder pads—over a white t-shirt and jeans. It doesn't matter if it's full-blown fashionista with high-waisted or easygoing chic with low-slung. The most casual attire of jeans and a white tee just got a major upgrade.
How does a blazer instantly upgrade your go-to outfit? Well, it's the opposite of the oversized cardigan sweater trend. While that's still going strong with no signs of stopping, those oversized sweaters add a casual vibe to an overwise fussy ensemble, like a dress. The structure of a blazer does the complete opposite. It makes an almost forgettable outfit now pop. This is the time to experiment with bright colors or bold patterns in a blazer. It's that burst of color against a canvas of white and denim that really stands out. It's a look that's put together without trying too hard.
Add some accessories if you'd like. Button that blazer or leave it open. Whatever you do is uniquely you. Prepare to look polished, but feel comfortable with this winning white-tee-and-blazer combination.
Dress Down Dress Pants

Dress pants are perfect for the boardroom or for dressing up for an event, but have you ever considered intentionally dressing down those dress pants? The purpose, we know, is to give off a vibe of professional polish, but why not loosen up a bit and get more wear out of your dress pants with a classic white t-shirt?
Dress pants can be utilitarian, stylish, or trendy. They can be a fitted solid style, a laid back and loose fit, or just loud and proud with wild patterns. Our best guess is that you're pairing them with that proper pomp of a crisp button-up shirt. Let loose and enjoy those pants on the weekend and after-hours.
It's a shame dress pants don't get to have more fun, especially if they're bright and vibrant. The more bold, the better to pair them with a white t-shirt. A unisex fit is inspiring, a missy an interesting in-between, and a fitted style puts all the emphasis on those bold patterns and colors. But wait. Leave the solid black staple in the closet. It's a little too uniform. Break out your bright and bold dress pants, instead.
Of course, if you'd like to bring this look into the office, try a fitted white t-shirt with your dress pants. No one could ever accuse you of looking sloppy. A classic white tee might even be more interesting than the regular button-up, so prepare that shirt for retirement.
Just have some fun with dressing down those dress pants.
Have a few white t-shirts in your closet you're already wanting to try? By all means. Or stock up on some new favorites in some still-classic cuts. Styling around a white tee should be fun. There aren't really any rules, only a few pieces of advice to be taken oh-so lightly, or completely ignored. Play around with a white t-shirt in all new ways. Above all, there's nothing like taking a classic, adding a bit of inspiration, and making a look all your own.
---
Related posts