Style# T68TH
Towels Plus T68TH Tri-Fold Hemmed Hand Towel with Grommet
Item# T68TH
Towels Plus T68TH Tri-Fold Hemmed Hand Towel with Grommet
Item# T68TH
Description
100% sheared cotton terry. Tri-fold with center brass-colored grommet and hook. Dobby border hem. 3.6 lbs./dozen. 16""W x 26""H.
Companion Styles
Customers Also Bought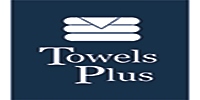 About Towels Plus
Anvil doesn't stop at making excellent t-shirts and sweatshirts. Anvil also produces hand towels and fingertip towels with the same superior quality standards of their clothing line. "Towels Plus by Anvil" is the name of their great line of awesome 100% cotton towels.