Style# T600
Description
100% sheared cotton terry. Fringed ends. 1.3 lbs./dozen. 11""W x 18""H.
Companion Styles
Customers Also Bought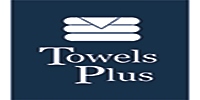 About Towels Plus
Anvil doesn't stop at making excellent t-shirts and sweatshirts. Anvil also produces hand towels and fingertip towels with the same superior quality standards of their clothing line. "Towels Plus by Anvil" is the name of their great line of awesome 100% cotton towels.